NEWS ARCHIV July/August 2006
August 2006
Canadian Champion
Scent-of-Fame Above the Clouds
"MELVIN"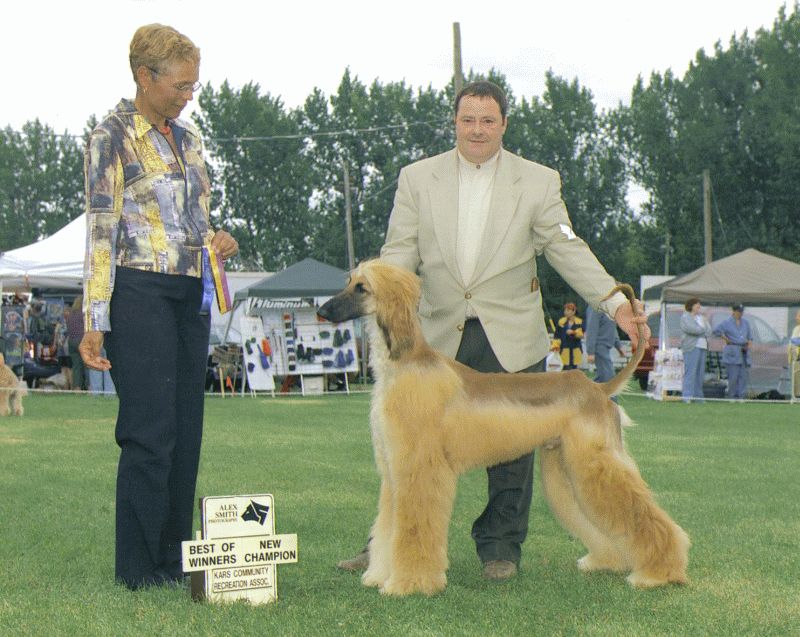 Congratulations again to Louise, Andre and Genevieve!

We are very proud of our GAZON and his master Michael......
Meet him at the dogschool, klick on picture for more!
June 2006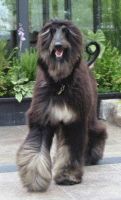 KLICK on PICTURES for MORE!!!
What a weekend....
We are on cloud nine....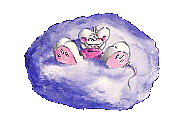 21th and 22th July 2006
With pleasure and full of pride we have to announce that we have two new
Canadian Champions...
Can. CH Scent-of-Fame A Magic Time "DEAN"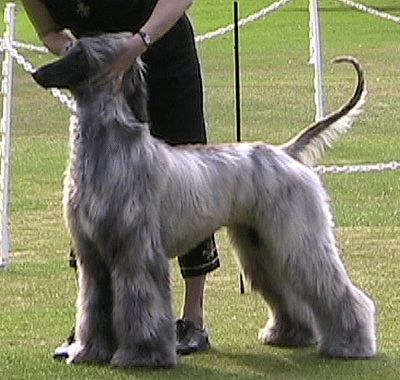 won on two days owner handeld at the
Vancouver Island Afghan Hound Association Specialty Show
Winners Dog
Best of Winners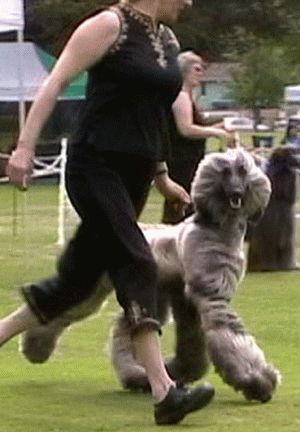 Metro Valley Afghan Association Specialties
Winners Dog
Best of Winners
Best of Opposite Sex
over top winning American and Canadian specials!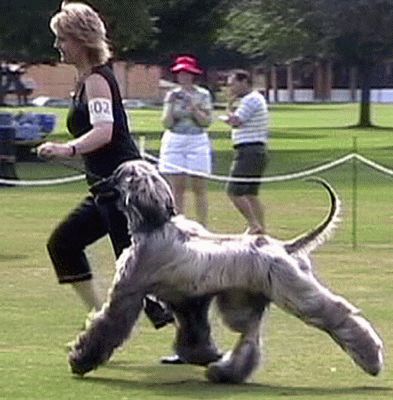 CONGRATULATIONS Sheila and DEAN, what a great job!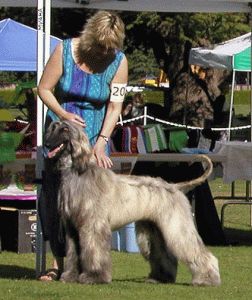 More pictures and videoclips you can find on
DEAN`S WEBSITE
Can. CH Scent-of-Fame Above The Clouds "MELVIN"
finished also his Canadian Champion at the Kars show/Can on the same weekend!
He became:
Winners Dog and Best of Winners on 21th July under judge K. Kahn
and again:
Winners Dog and Best of Winners on 22th July under judge E. Rempel
CONGRATULATIONS Genevieve, Louise and MELVIN, wonderful job!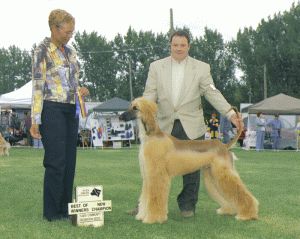 ...but this is not enough...
"JASON"
Lux. JCH Scent-of-Fame Arabian Nights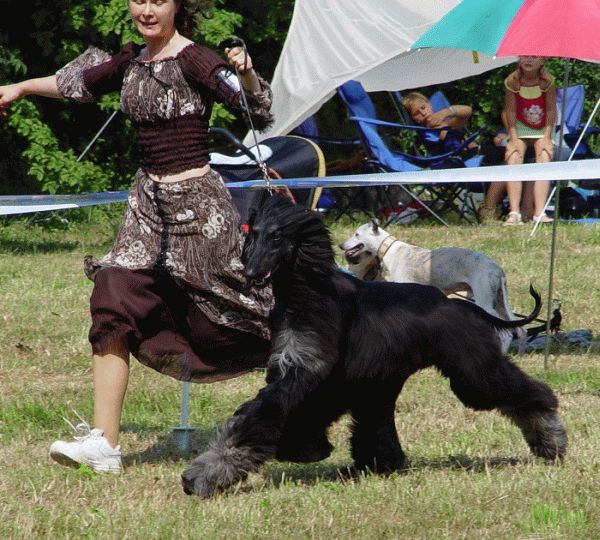 got his first Junior Best in Show on Saturday
under judge Mr. A. Kellemen
Breeder/owner handled

More pictures from the show HERE!
07/18/06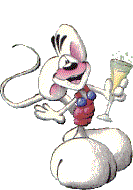 HAPPY BIRTHDAY our BABIES
to your first birthday...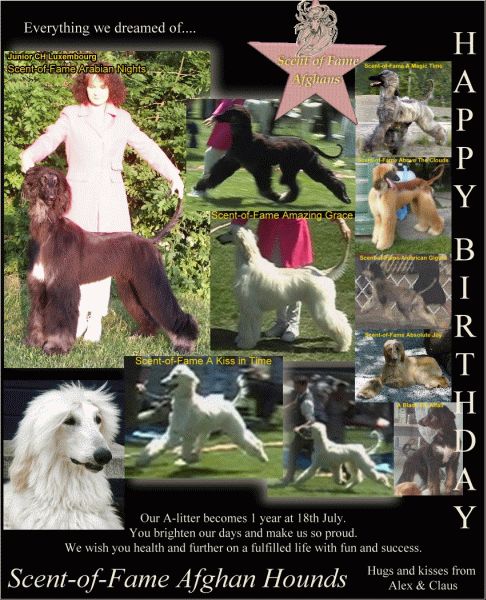 we wish you healthness and fun!
Thank you to all our puppyowners for their wonderful homes, for taking such good care of them and give them so much love.
Have all a wonderful first birthday with many presents and a lot of hugs and kisses.
We love you all
Dean with Sheila and Clif in Yukon/Canada
Melvin with Louise, Andre and Genevieve in Quebec/Canada
Clark with Alisa in Georgia/USA
Armani with Suzanne and Rob in Seattle/USA
Gazon with Michael and Christine in Germany
and last but not least our beloved
Grace, Jason and Silver, who stay with us in the kennel and brighten our days.
You all make us so proud and happy.
Your kennel mom and dad, Alex and Claus!
Thank you Sheila and Clif for this nice birthday-greetings...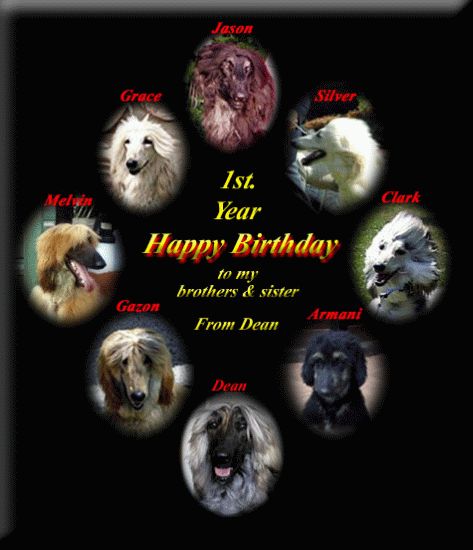 ...and thank you to Michael and Christine for this beautiful birthday-card...
07/17/06
New photos of CLARK

Scent-of-Fame American Gigolo
07/16/06
We had to say "Goodbye" to our beloved little Gina, our queen and mascot...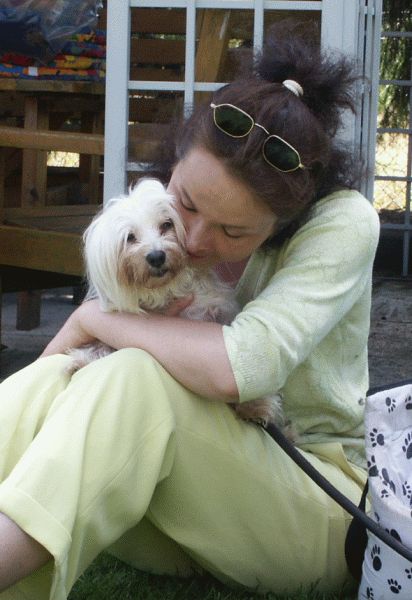 Sleep well darling, we miss you and you will be forever in our hearts!
07/07/06
The VIDEO of Jason in Luxembourg is online!
07/02/06
Wandhond Festival 2006 Weiswampach/Luxembourg
Only 11 month after the birth of this marvellous litter we have our

First Own Bred CHAMPION ......

JCH Scent-of-Fame Arabien Nights "Jason" is now Junior Champion Luxembourg.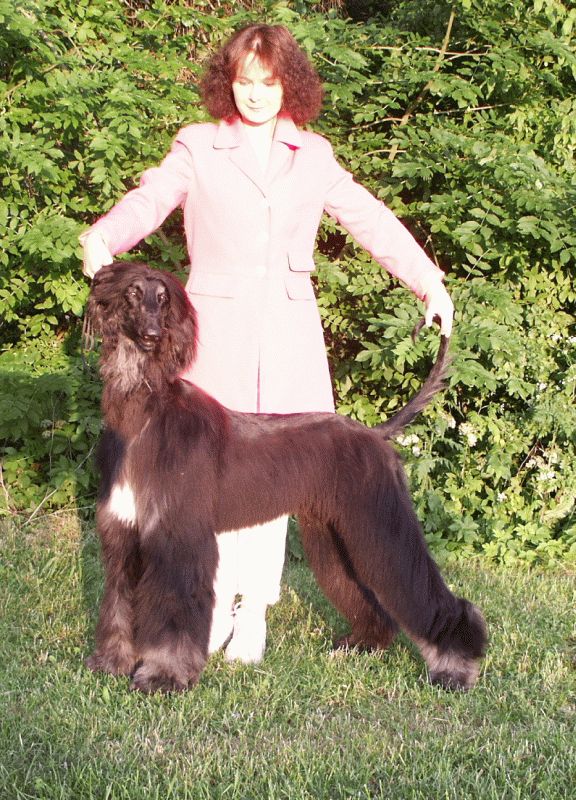 His judge report:
Excellent outlines, excellent, arrogant expression, strong neck, topline with all details, very good shoulder and upper arm, straight good topline, excellent feet, excellent long tail but without curve, bit close coming going, but from side a lot attitude with true springer gait.
excellent 1, Junior Champion
Thank you to Judge Mr. Per Lundström/Sweden
Silver and Grace got excellent 2!
More about all results under HIGHLIGHTS!
"Jason"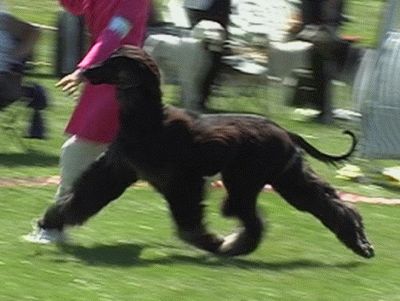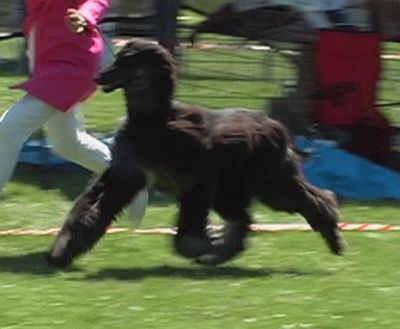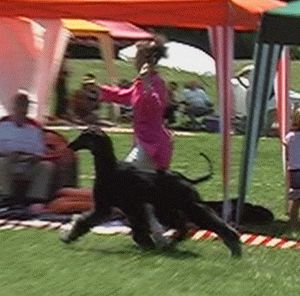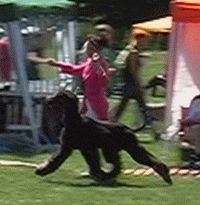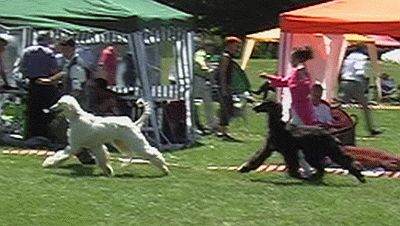 "Silver"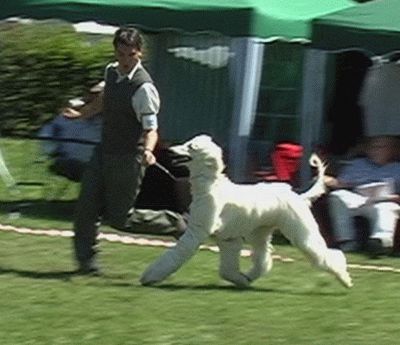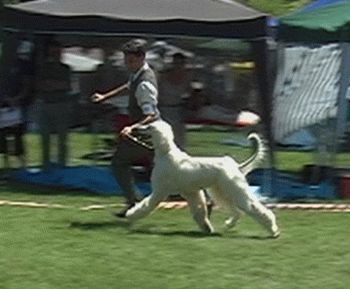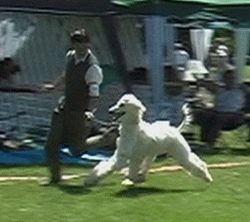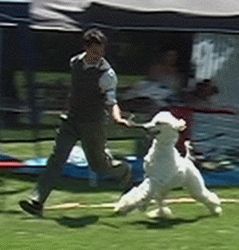 Our princess "Amazing Grace"