Our kennel
Scent-of-Fame is registered since 2004!
We breed under the rules of DWZRV/VDH/FCI
We, that means ALEX(andra) & CLAUS!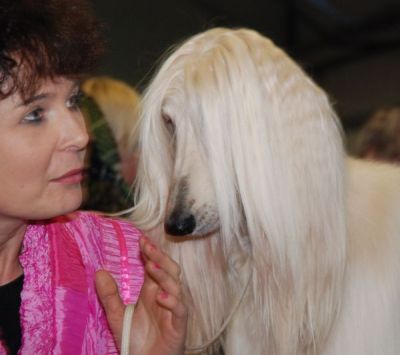 Our goal is to breed healthy and beautifully balanced hounds in every way
with a perfect combination of type and movement!

Our first Afghan Hound came to us in March 1995 - Ghorayah Shams-an-Nahar!
Thank you Antonia (Shams-an-Nahar Kennel) for entrusting us with our first Afghan Hound!
And because "one Afghan is non Afghan", her halfsister joined us Septemper 1997 - Chanthani Shams-an-Nahar!
With this two girls we started our jorney into the Afghan Hounds and dog shows and sighthound racing and coursing!
They both were from VDOM and Scandinavian lines!
Both were pasionated racers, but both were not that showdogs!
They shared their life with our beautiful Maltese Gina, who left us 2006!
Ghorayah and Chanthani died in March 2009 and we still miss them!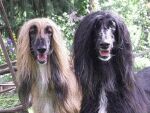 1998 we bought our first house with fenced garden.
There our girls could enjoy to stay outside without leash!


My dream was always an Afghan Hound male
and when I saw the puppy picture of TREVIN (CH Wind against Scent of Fame) with eight weeks,
it was love at first sight and after a phone call
and a visit at the beautiful Wind against Kennel of Margit Moser in the Vogese/France,
Trevin came in our family!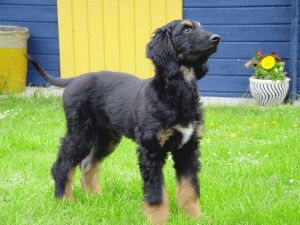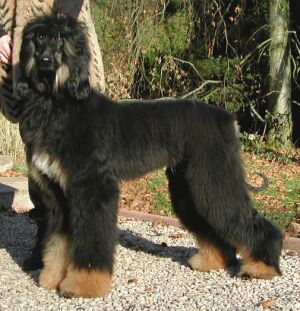 Our first male and our first SHOWDOG!
Trevin finished his German Champion at the age of three years
and later he became also German Veteran Champion!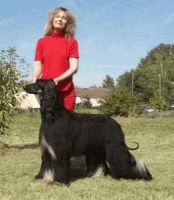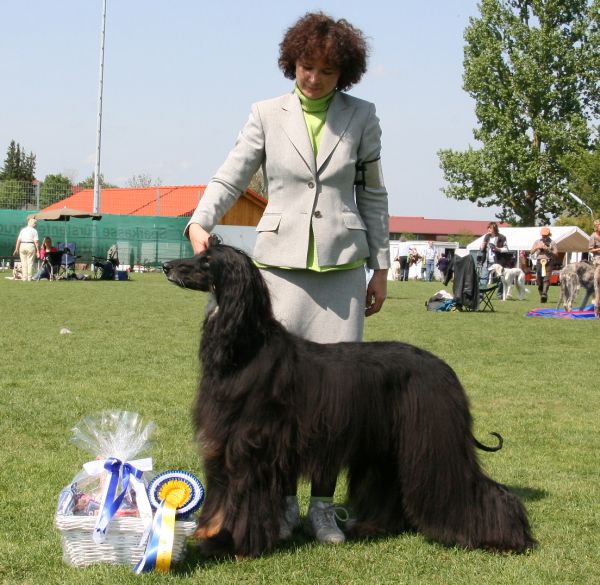 In Margit I found a friend, a teacher and mentor and with the shows we met a lot of great peoples
and some of them became friends!
Because Trevin was and is my dog, Claus needed his own (show-)dog
and so I decided to make him a birthday present....
and Farah (Wind against Time of My life) joined us in July 2002!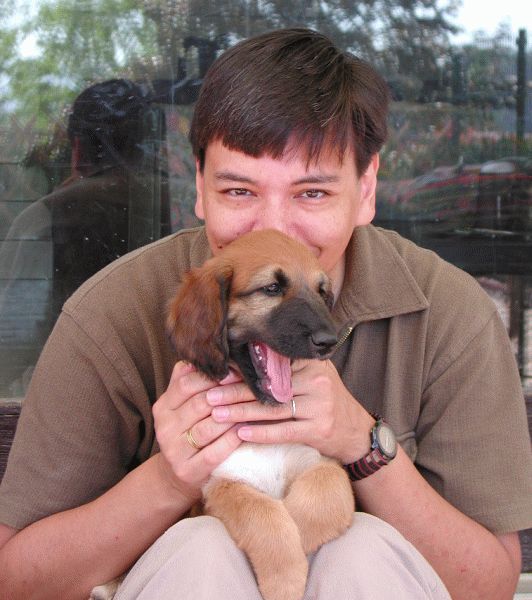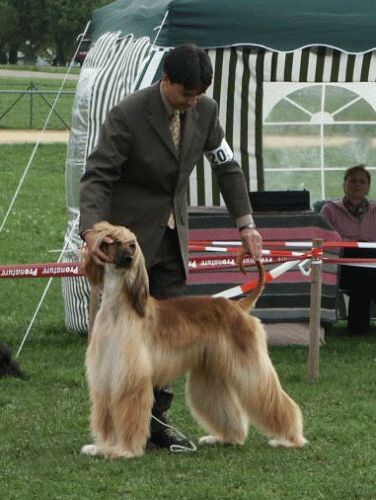 She became later on the foundation bitch of our kennel.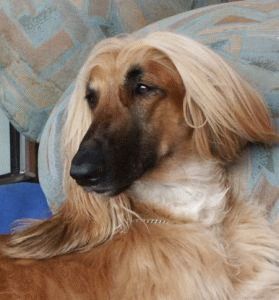 Trevin and Farah are from VDOM and American lines and so we started
to think out of the box and we visited some foreign countries, among others also the USA
to watch and study the Afghan Hounds there!

After 10 years as Afghan Hound owners, we thought we were ready to establish our own kennel and breed our first litter!
We named our kennel after our beloved Trevin, Wind against "Scent-of-Fame"
For our first Litter we travelled to USA with our beautiful Farah to meet stunning Justice "MSBIS CH Gazon The Truth Be Told"!
Thank you to Beth Collins, who gave us the opportunity to breed to her wonderful boy!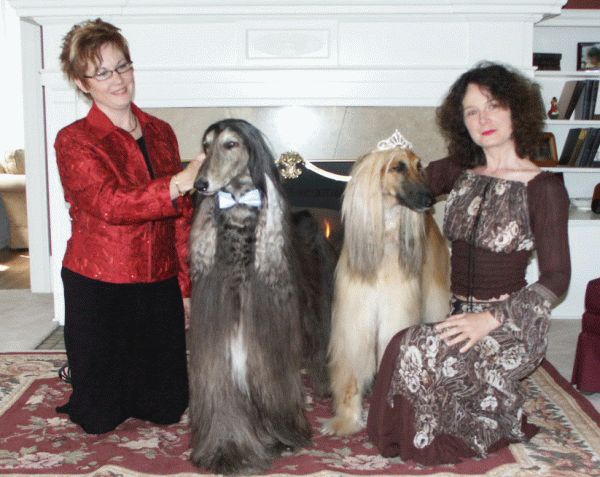 Our A-litter was born 18th of July 2005 - 8 beautiful, strong and healthy puppies in a rainbow of colours!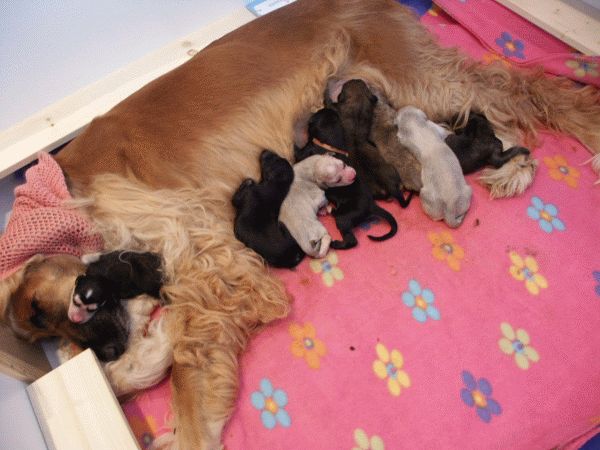 Parents are Farah and the famous "Justice" from USA, MSBIS CH Gazon The Truth Be Told!
We kept three (Jason, Grace, Silver) of the eight puppies
Two live in Canada and two in USA, one, who lived in Germany,
died with 18 month on a undedected long torsion!
Six of the seven living siblings are in show homes and they are doing very well.
Our successful "Mr. Dean" - MBIS MSBIS MCH Scent-o-Fame A Magic Time got 2 BIS, 2 SBIS,
4 Group 1, 1 Group 2 and 1 Group three and the first halfyear of 2010!
Needless to say we are very proud of him and his owner Sheila Robertson (Daghan Kennel/CA)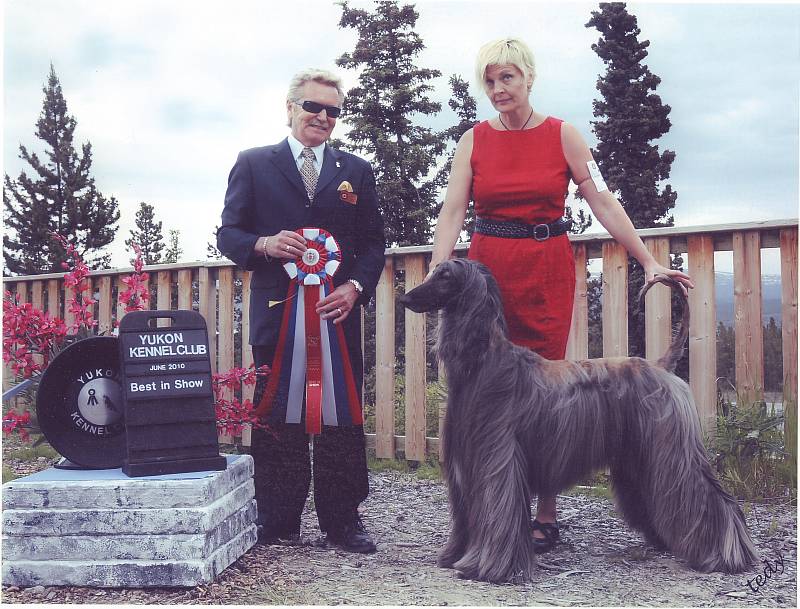 DEAN & MELVIN in Canada have also already sired some beautiful litters with successful offspring!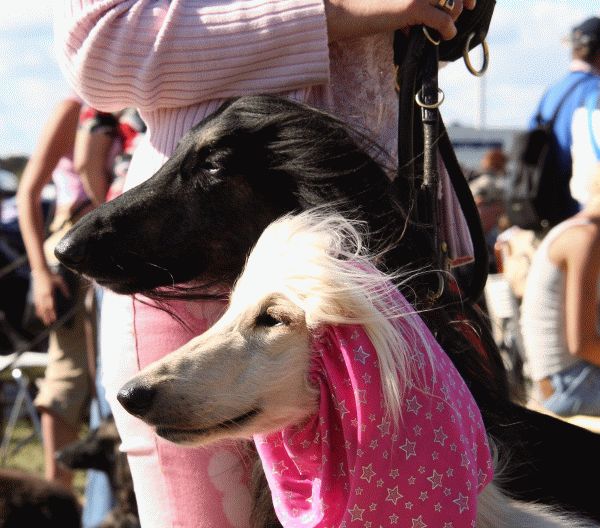 MCH Scent-of-Fame Arabian Nights, MCH Scent-of-Fame Amazing Grace, JCH Scent-of-Fame A Kiss In Time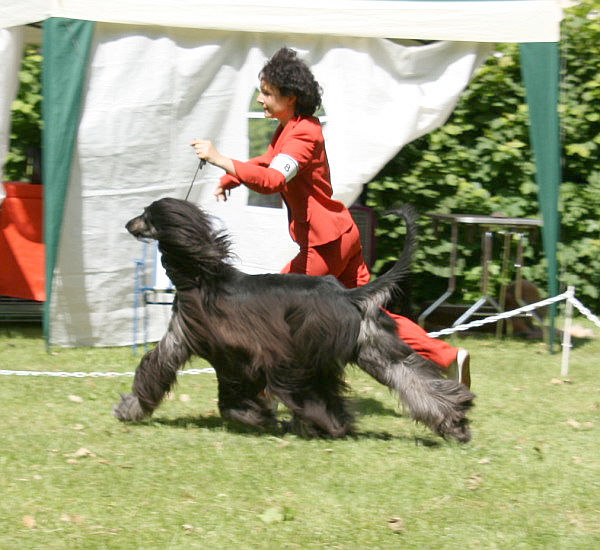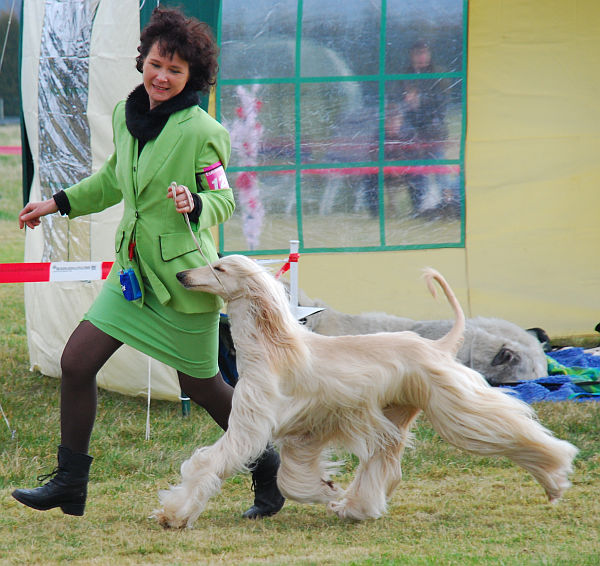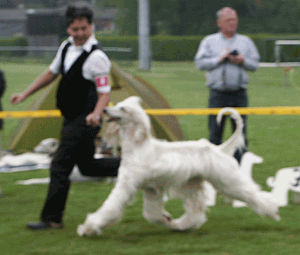 2006 we picked up our beautiful LEA - CH Deloubelle Taza Icing On T`Cake, another Justice daughter!
We fell in love with her when she was a puppy of 12 weeks at the National in St. Cloud 2004!
But she was already two years when we got her and she became the mother of our B- Litter 2007!



Three beautiful boys, sired by MSBIS MCH Xenos Comment
- thank you to Roberto Bongovanni.
We kept two, RAY and GLENN!
MSBIS MCH Scent-of-Fame Body N`Soul "Ray"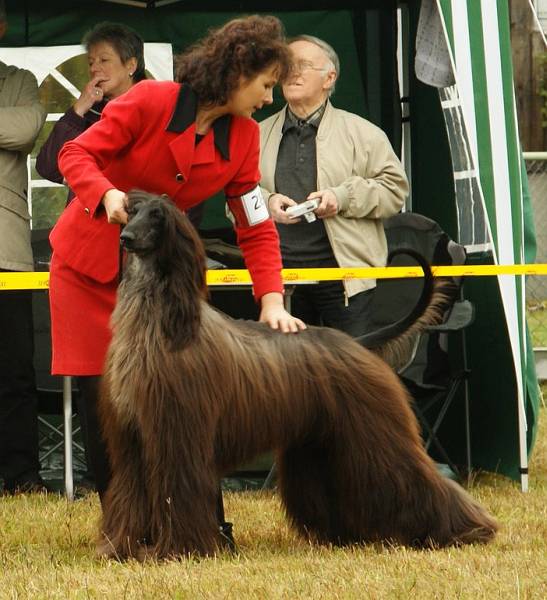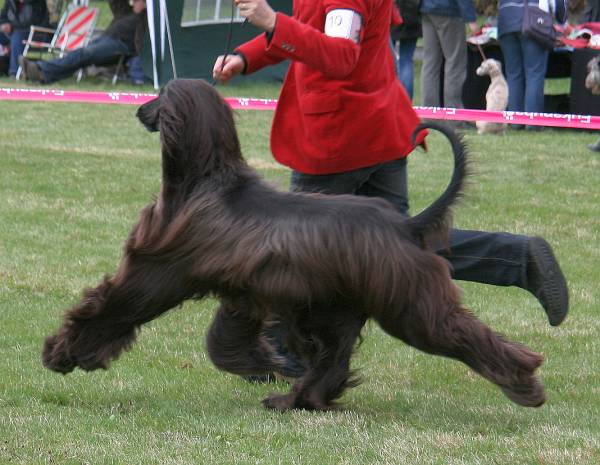 Scent-of-Fame Blues N`Rhythm "Glenn"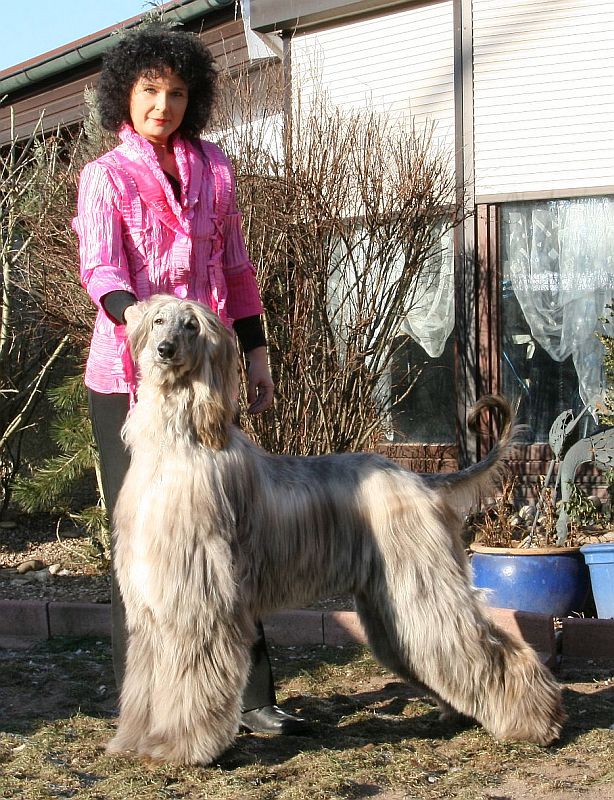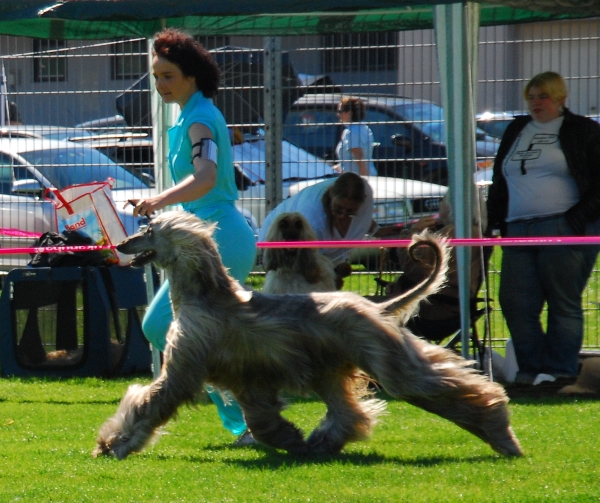 Three brothers at the age of 3 years...


Ray - Glenn - Gucci (Scent-of-Fame Blue Sapphire)

Ray, Scent-of-Fame Body N`Soul", turned out as a very successful showdog and he has reached 4 Champion titles
under the age of 3 years and two Specialty Best In Shows and Group Placements.
With Lea we got not only another wonderful Afghan Hound BUT also new friends and breeding partners
in Louise and Andre from the well-known Deloubelle Kennel in Canada/Quebec!
2010 we got the great opportunity to rent "LIZ" Wind against Connecticut from our friend Margit Moser
for one litter with our Ray!
And the breeding was very successful, at the 29th October 2010, we got our C-Litter, 7 boys and 6 girls in all varieties of brindle!
Liz is a sweetheart and she has the most beautiful eyes and eyelashes you can imagine and a lot of body!
She raised her big litter without problems!
She went back to her Kennel at the end of Decmeber 2010, attendet by two of her sons, Phil and Louis!
A big thank you to Margit!
From this litter we kept ESTELLE, INOLA, KATE, JULIUS, SCOTT and VINCENT!

They enjoy each other with their daddy Ray
in our new, own paradise - Scent-of-Fame Kingdom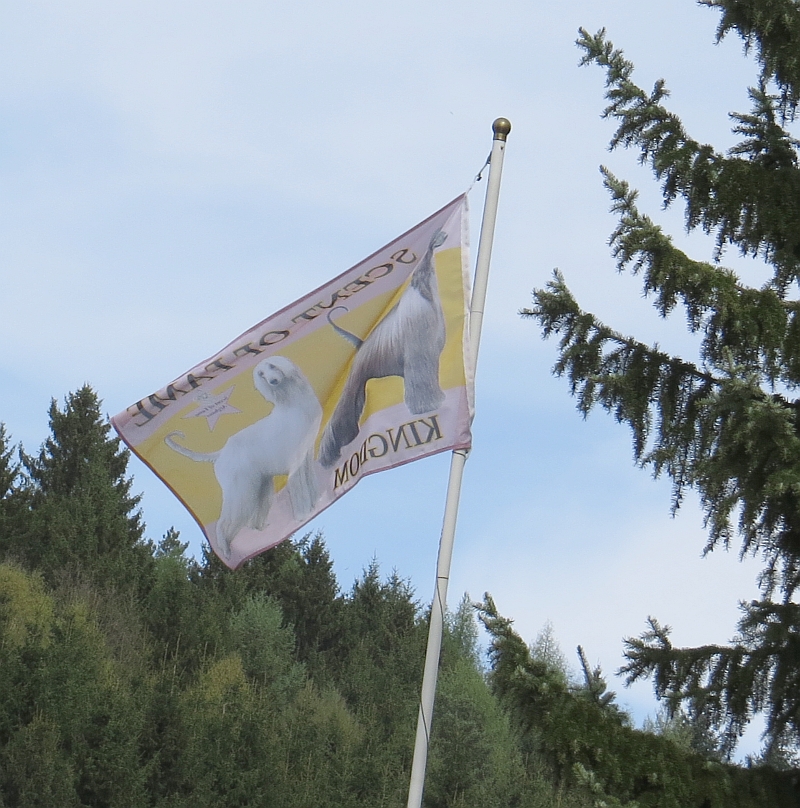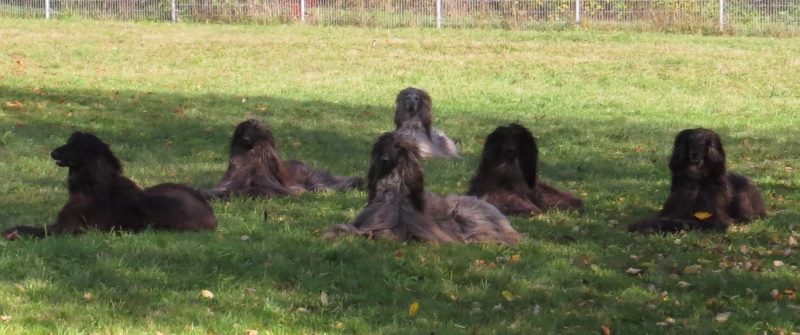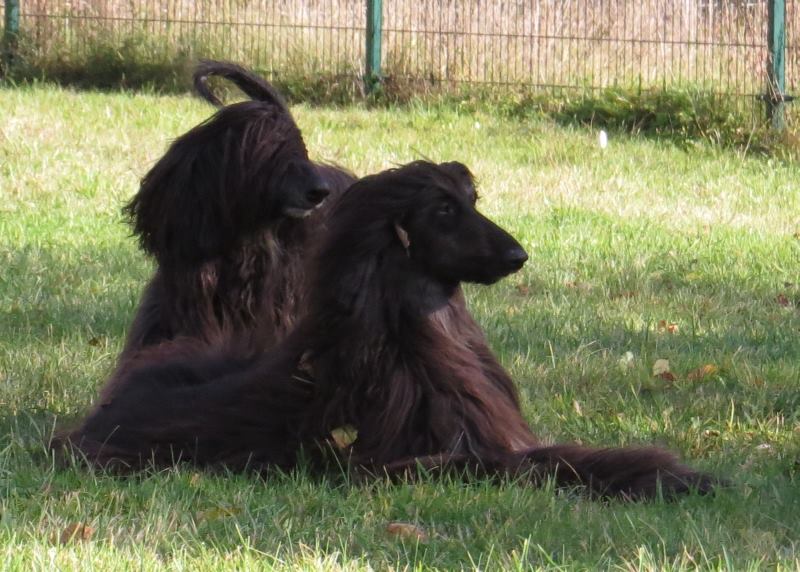 All our dogs you can find under " Our dogs "
How we live with our dogs?
Our dogs are family members!
We have no kennel and the dogs are not crated!
They live with us in the whole house and they love to share the sofas and chairs with us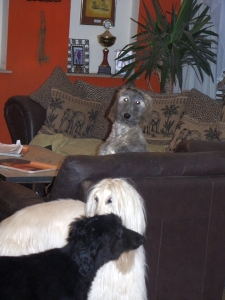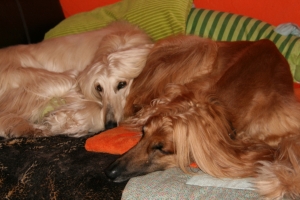 and with some we also share our bed (pst, don`t tell that "non-dog-people! ;-) )....!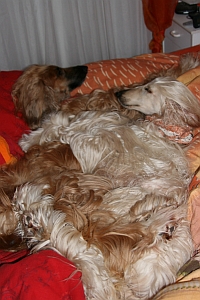 They have some fenced yards in different sizes and a big yard for running.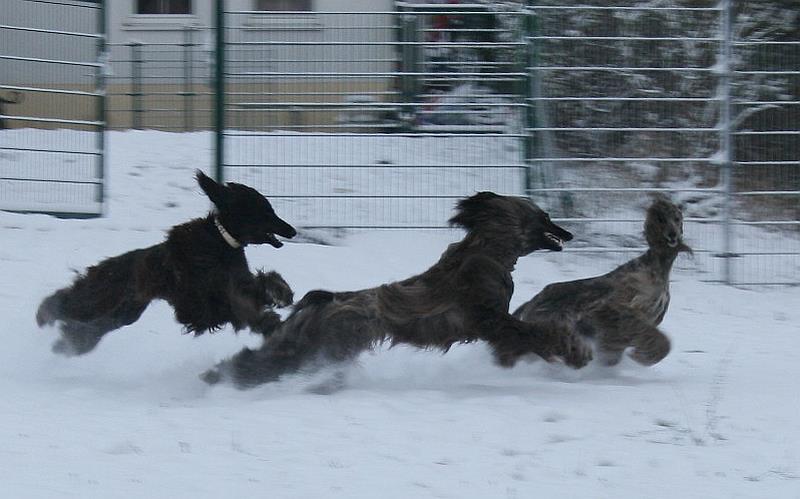 We live in Bavaria/Oberfranken, the most beautiful area of Germany (in our opinion)!

Grooming is also a big part, when owning Afghan Hounds:
To keep them in great shape, they got all a bath once a week!
Because bathing and grooming need time, I do two dogs every day!
Here is our new Groomin Area: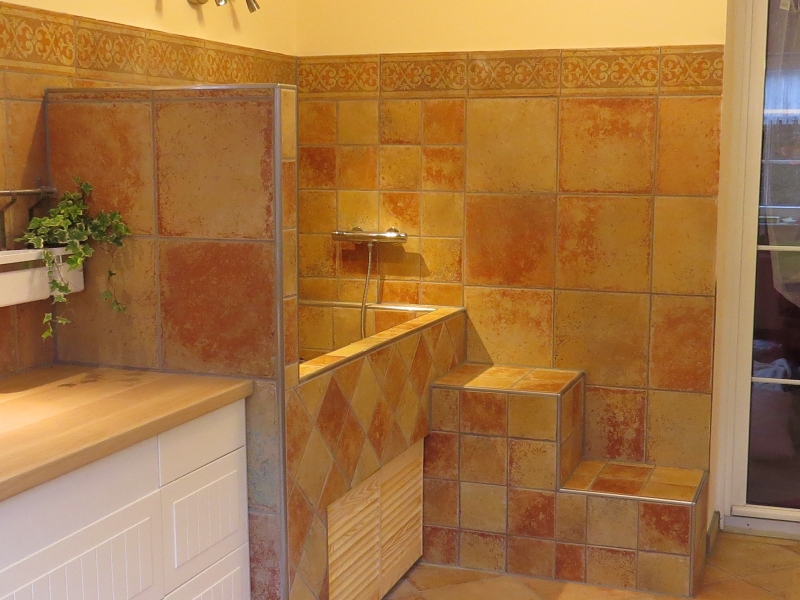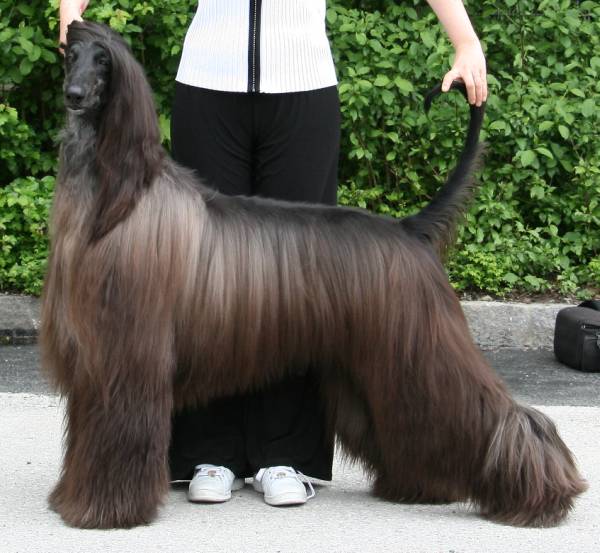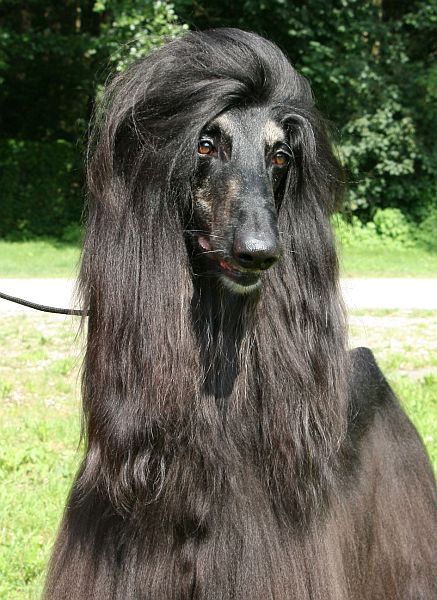 Between spring and autumn we are also frequently in our racing club (WRVI) for coursing and racing!
This is the passion of the Sighthounds and our dogs love it!
We don`t do competitions in racing and coursing,
even if all of our dogs have their coursing license,
but we do it for their fun and condition!
Since we at our new place, we don`t go to the racing club anymore.
Our dogs can do coursing every day now in their own garden.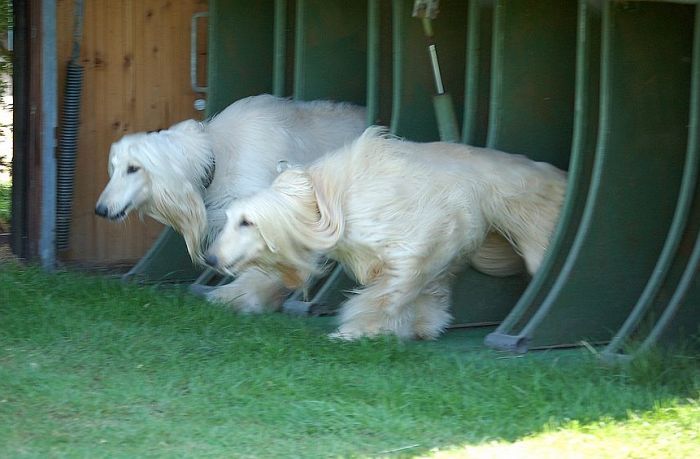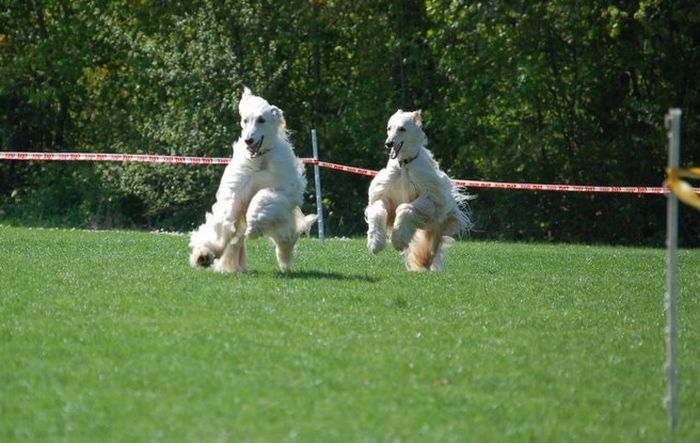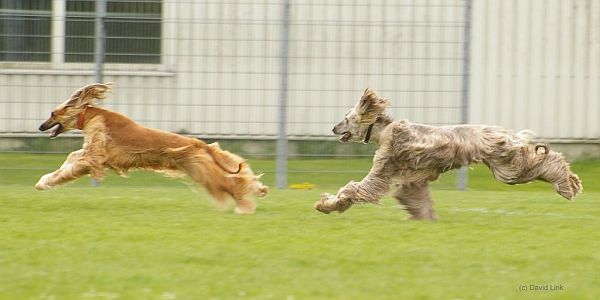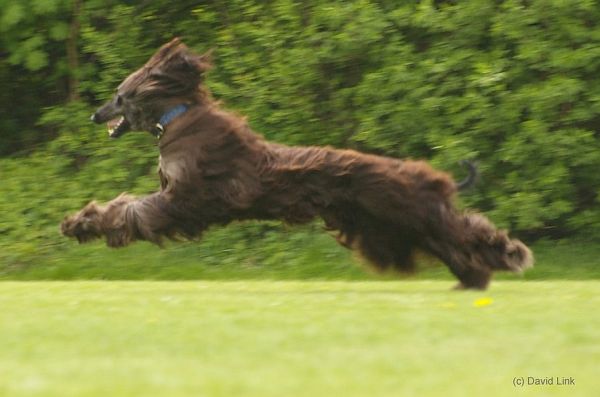 We also visiting about 20 and more dog shows per year in whole Europe and USA
and meet there other Afghan Hound breeders and owners!
There we can share our wonderful hobby and can show our beautiful dogs.
Most of our dogs are Mutli Champions.
When we have time, we do "Dog Dancing" or "Agility" with some of our dogs,
but only for fun and for sozialisation and to give some variety, not so much serious ,-)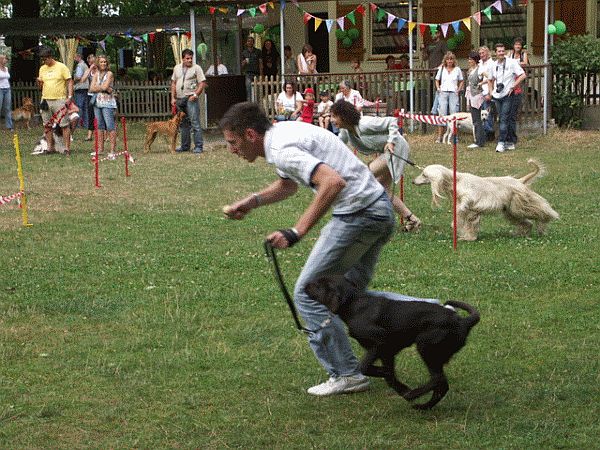 Even if we love to show our dogs, first we LOVE our dogs.
There is no need to be a successful show dog to have our full love and attention!
We love them like they are and this is, what we also expect from our Puppy Buyers!
All dogs who live with us stay with us until they die!
To share the live with THE KING of DOGS is a privilege!
The Afghan Hound is for sure not a dog for everybody!
You need to understand his character and mind,
but when you fell in love with this unique breed,
you will be addicted!
If you want a dog that is dependent on you,
then an Afghan Hound<![if !vml]>
<![endif]> is not right for you and your family.
However, if you don't mind having a dog that is independent
and likes to think for himself, then this may be the perfect choice for you.
An Afghan Hound is not comparable to any other breed.
The Afghan Hound is aloof and dignified and a character!
If you watch Afghan Hound people speaking with their dogs,
you will always hear: "PLEASE!"
The Afghan Hound needs his free space!
If you have decided, that this breed is something for you,
and when you love and understand them,
you will get a wonderful friend!

As puppy they are funny and wild and they do a lot of nonsense,
and when they grow up, they become KINGS (but still doing a lot of nonsense),
and you can watch them the whole day and you will be always fascinated by their
beauty and elegance,
but also by their unique movement and their athletic motion and speed when they are hunting!
And later, when the faces get grey and they become older, they become so dignified!
An Afghan Hound is a joy and a privilege to live with!
He is
THE KING of DOGS!!!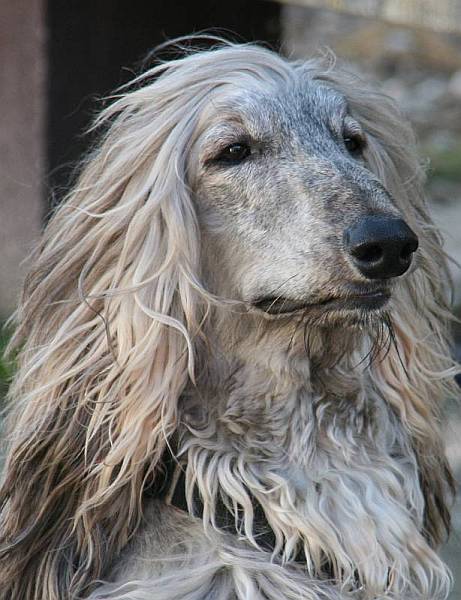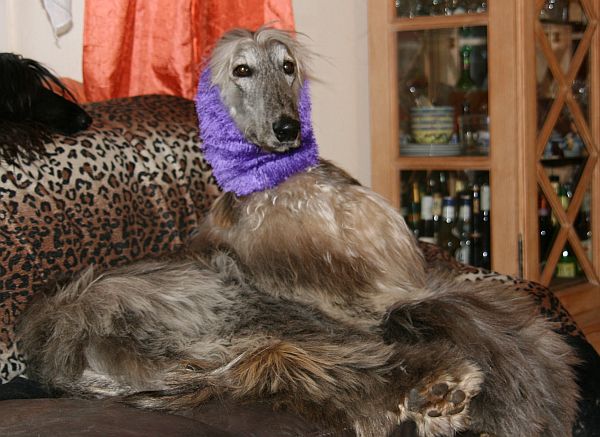 Independent and Aloof, Dignified and Affectionate!
Graceful and Majestic, Strong and Energetic!
More about the Afghan Hound and the Standard(s) go to : AFGHAN HOUNDS!